The puppies from our Spring 2014 & Autumn 2015 litters are making their mark in the show ring and in the field!

Fanny Wins Back-to-Back Sporting Group 1sts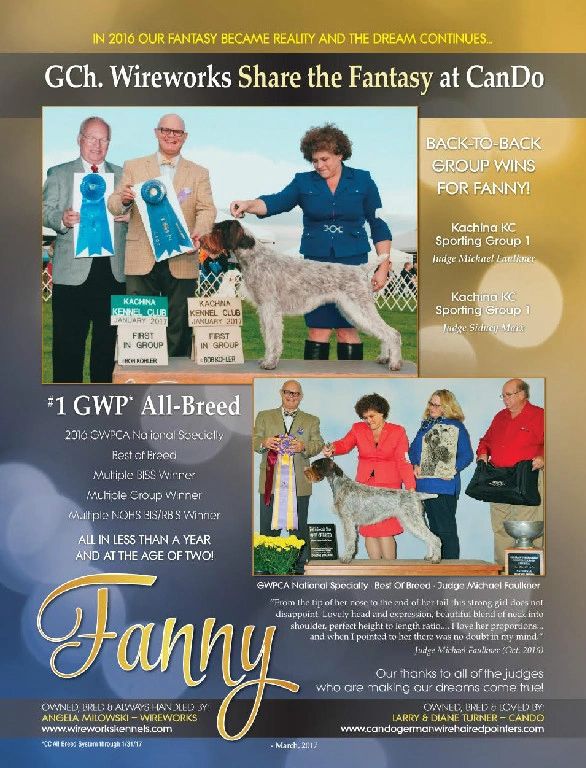 Fanny Wins Best of Breed & Best Owner Handler in Show at the
2016 GWPCA National Specialty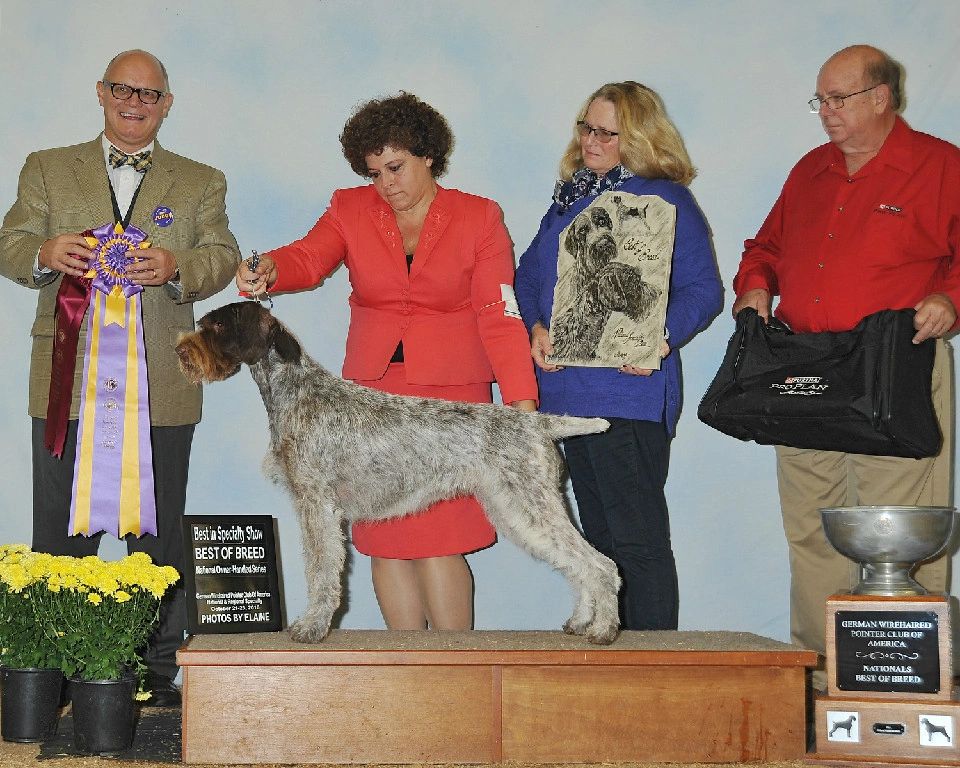 CH WireWorks Share the Fantasy at CanDo (Fanny) is from our 2014 "Slogan" litter. Fanny is a wonderful family companion--funny and energetic yet gentle enough to be our four-year-old granddaughter's best friend. Fanny is a lovely girl who processes wonderful structure, strong movement, a beautiful topline, a correct coat and lovely expression. She completed the requirements for her championship in seven shows and quickly finished her Grand Championship.
In July 2016 Fanny won Best of Breed at the Southern California GWP Specialty and now has multiple sporting group placements along with a NOHS Best in Show and NOHS Reserve Best in Show. In limited showing Fanny finished 2016 as #5 GWP in the Nation in conformation and #3 GWP in the NOHS series.

Fanny has been handled to her wins by her co-breeder and co-owner Angela.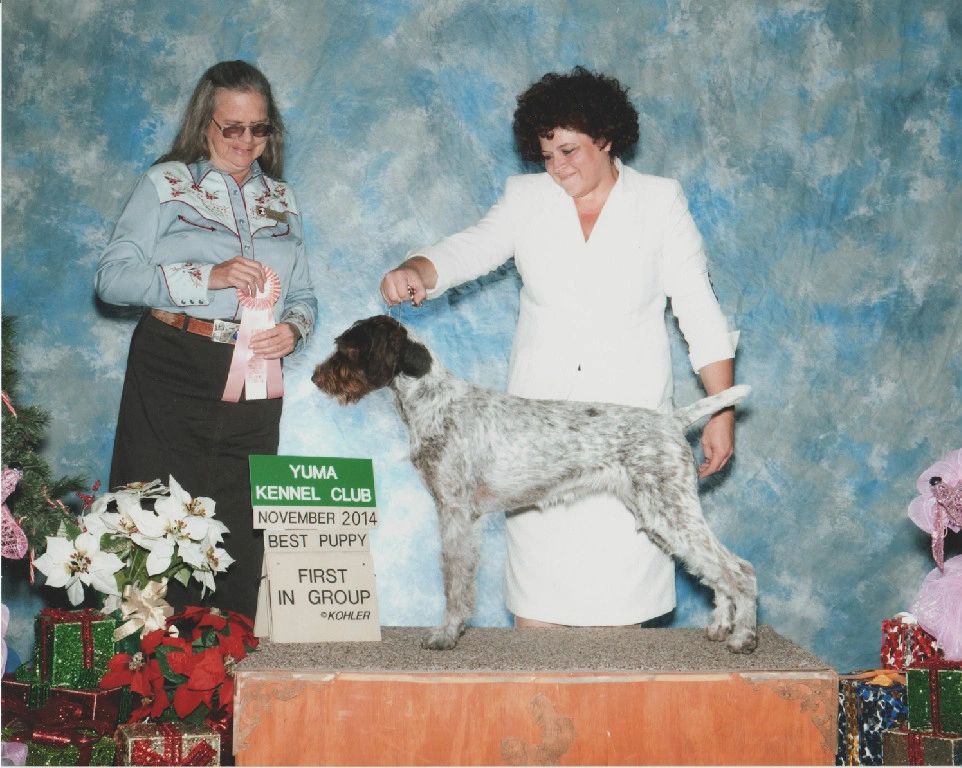 Fanny captured a Puppy Group 1 at the Yuma Kennel Club show. Fanny was the youngest competitor in the group at six-months of age. Fanny received her first points in Yuma which was her first show.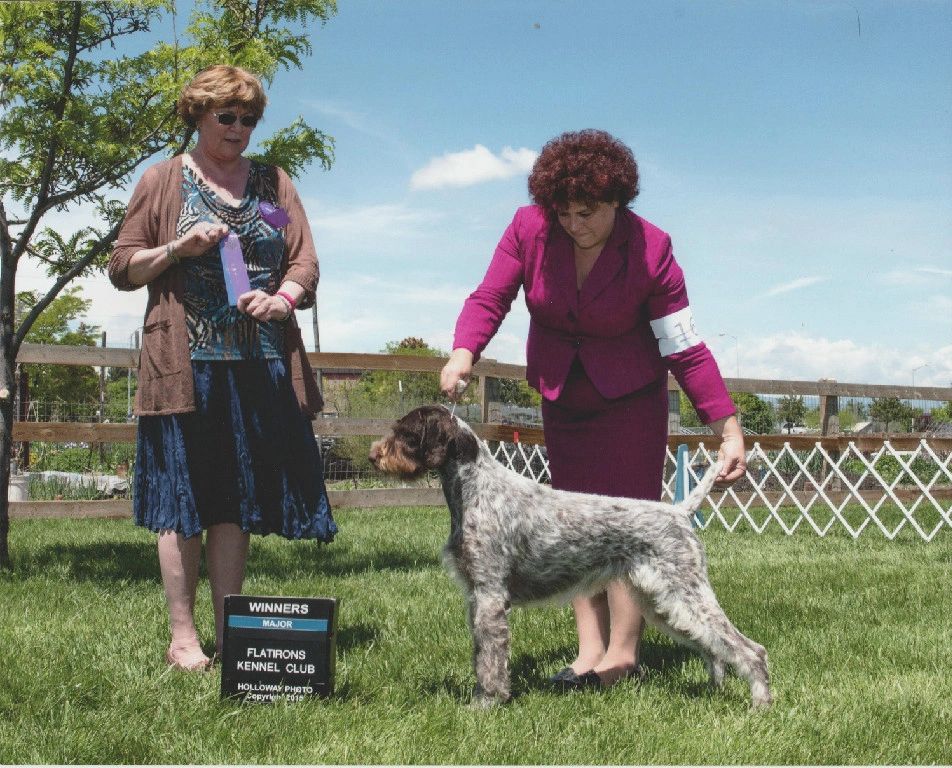 Fanny won back to back five point majors and Best of Winners at the Flatirons Kennel Club show in May, 2015 just as she turned a year old.



Fanny finished her championship at the Prescott Kennel Club in October, 2015. she went on to capture two Owner Handler Group 2's and a Bred by Exhibitor Group 2 that weekend.

WireWorks Repeat Performance @ CanDo
Wins Winners Bitch at the
2016 GWPCA National Specialty.




CH WireWorks Repeat Performance @ CanDo (Dottie)
is from our 2015 "Repeat" litter.
At 11 months old Dottie bested the entry in the Bred By Exhibitor class at the National Specialty and went on to capture the honor as Winners Bitch. To say Dottie is exuberant about life is an understatement - Dottie has beautiful structure and coat and is always looking for fun. Dottie is major pointed and should finish her championship soon. We are looking to the future with excitement as Dottie
begins her show and field career in earnest.

Dottie Finishes her Championship


CH WireWorks Put a Tiger In Your Tank @ CanDo

WireWorks Put a Tiger in Your Tank @ CanDo (Tank) has multiple group placements from the owner-handler group and the bred by exhibitor group and we are excited to announce that Tank received a Sporting Group 3 at the White Mountain Kennel Club shows in Arizona in October, 2015. At the Flagstaff Kennel Club shows from the classes Tank defeated the #3 and the #15 Wirehairs in the nation for Best of Breed. He went on to an Owner Handler Group 1 that weekend.
Tank is always handled by his owner/breeder Angela Milowski.

Tank Receives a Sporting Group 3 from Judge Bev Anderson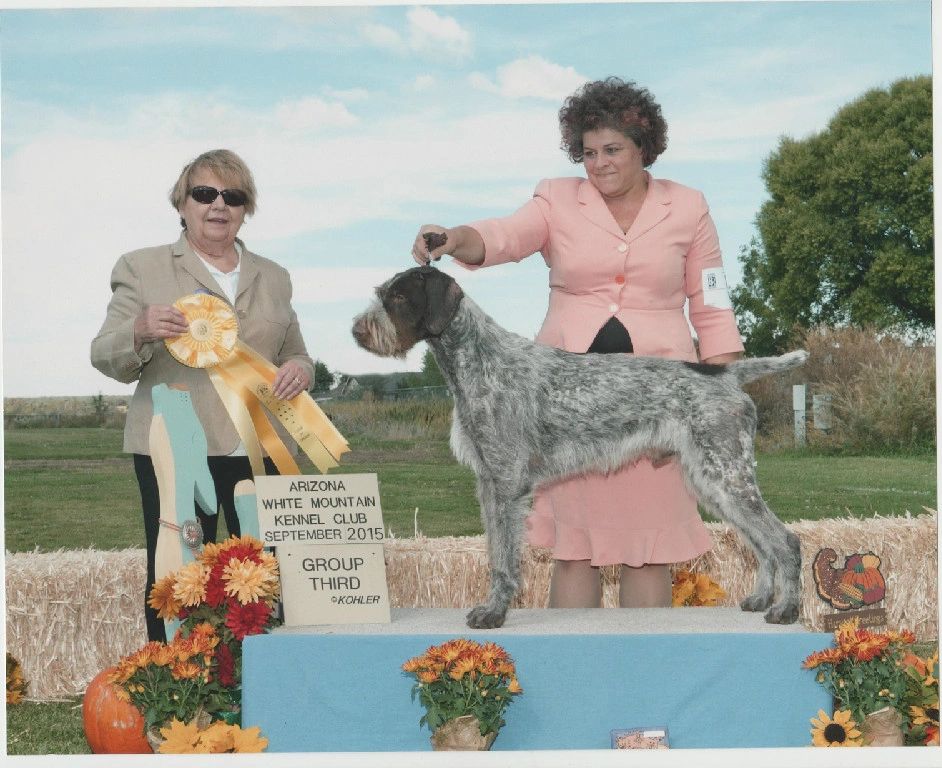 Tank finishing his championship at the Colorado Springs Kennel Club show in November, 2015.



Tank received a Bred-By-Exhibitor Sporting Group 3 at the Sporting Dog Association show in February, 2015 at the age of 9 months.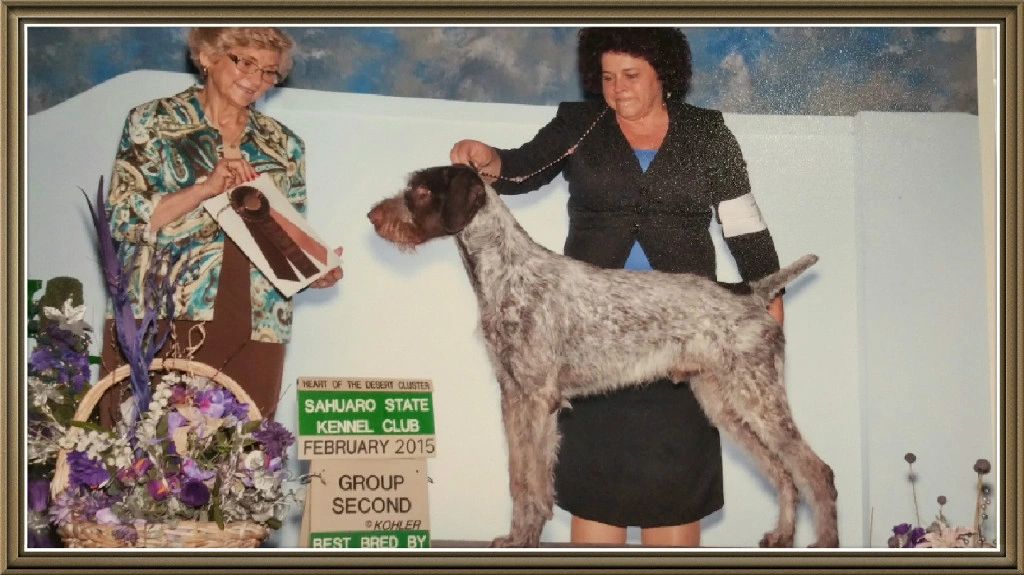 Tank received a Bred-By-Exhibitor Sporting Group 2 at Sahuaro State Kennel Club.
He was just 10 months old.



GCHB CanDo WireWorks Intrepid Sidekick
(Bear)
2017 #4 GWP - (All-Breed - All-Systems)
2016 Select Dog at the AKC National Championship
Bear is Co-Owned with Betsy Watkins of Windmill Kennels in Dallas, TX. We are grateful to Betsy and Bear's handler, Karen Newman for the wonderful
conditioning, training and especially for the love they show him each day.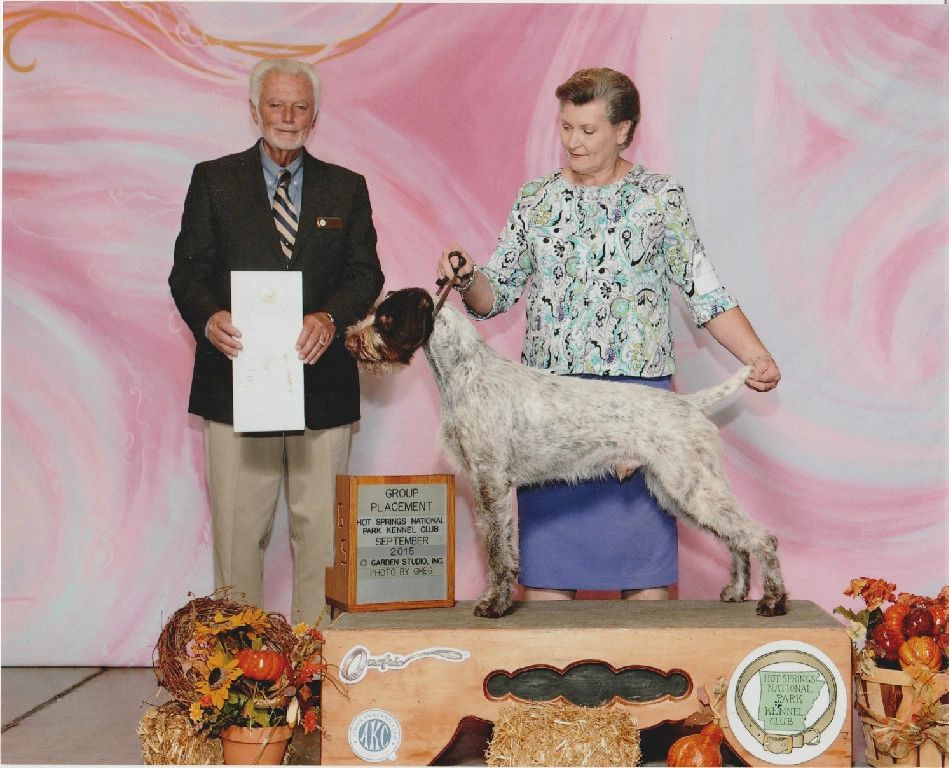 Above Bear is shown with handler Karen Newman receiving some of the Sporting Group Placements he has won.
Bear was Reserve Winner's Dog at the Regional Supported Show at
Ft. Robinson, NE on October 11, 2015 held during
the GWPCA National Specialty weekend.
Hey Guys! Even I can't believe it!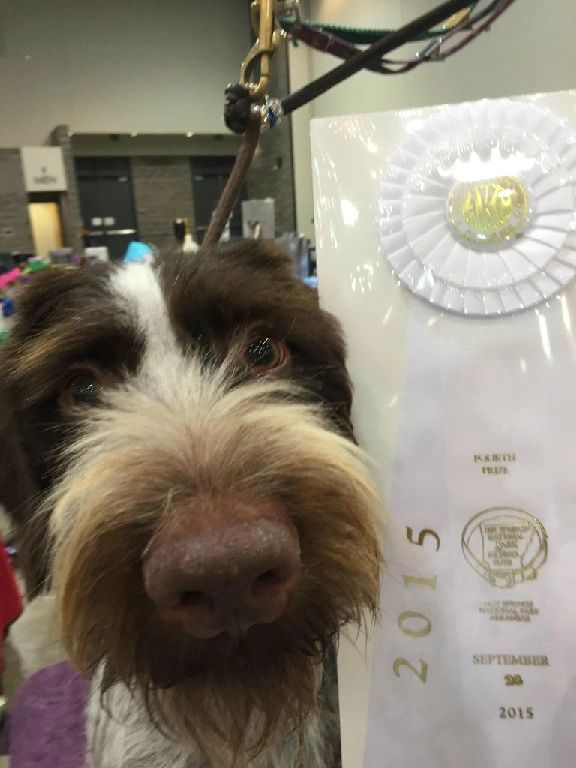 A Sporting Group placement and a Best of Breed
at my very first show!
Bear received his first Sporting Group Placement and Best of Breed at the
Hot Springs Kennel Club show in October, 2015.
Though Bear has a wonderful coat, possesses lots of GWP type and elegance, has a superb front, a beautiful rear, an outstanding side gait and tight feet ,Bear's best asset is his outgoing personality. Bear has never met a stranger -- either two or four-legged and he fancies himself the comic of the Sporting Group ring - keeping judges and spectators a like laughing at his antics!

CH .Wireworks I'm Everywhere U Want Me 2 B @CanDo
(Visa )
May, 2014-August 2016

We lost Visa in a tragic accident in the late summer of 2016. She was a lovey girl with an energetic personality. She was absolutely "bird-crazy" and with an extremely high prey-drive. She had a lovely head and expression, strong movement an amazing rear and tight deep feet. Her coat was one of the best in the breed, harsh and correct in texture.
We miss Visa each day - she will always be in our hearts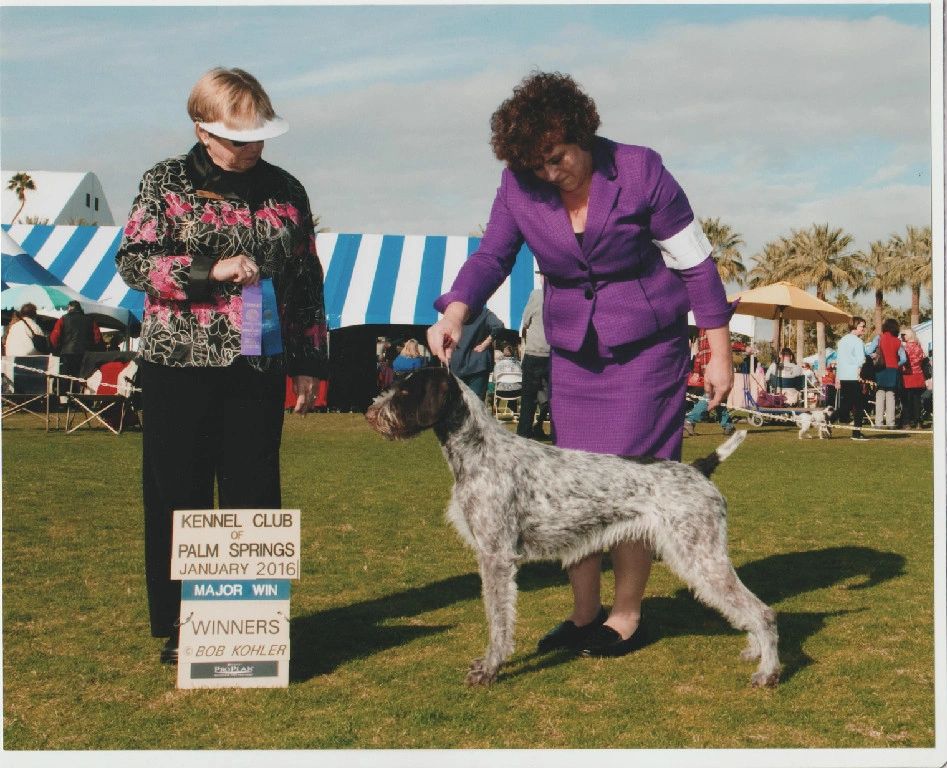 Visa winning her first major at the 2016 Palm Springs Kennel Club show. Just a week later she was BOB over the specials at Arizona Sporting Dog Specialty.


WireWorks Impossible is Nothing at CanDo

(Reba)
Reba is co-owned with Rachel Hilgeford of Tucson, AZ. She is pointed and has a Best of Breed win over adults, a Puppy Sporting Group 3 placement from the Superstition Kennel Club, Recently Reba won the amateur owner handle class at the 2015 GWPCA National Specialty Show.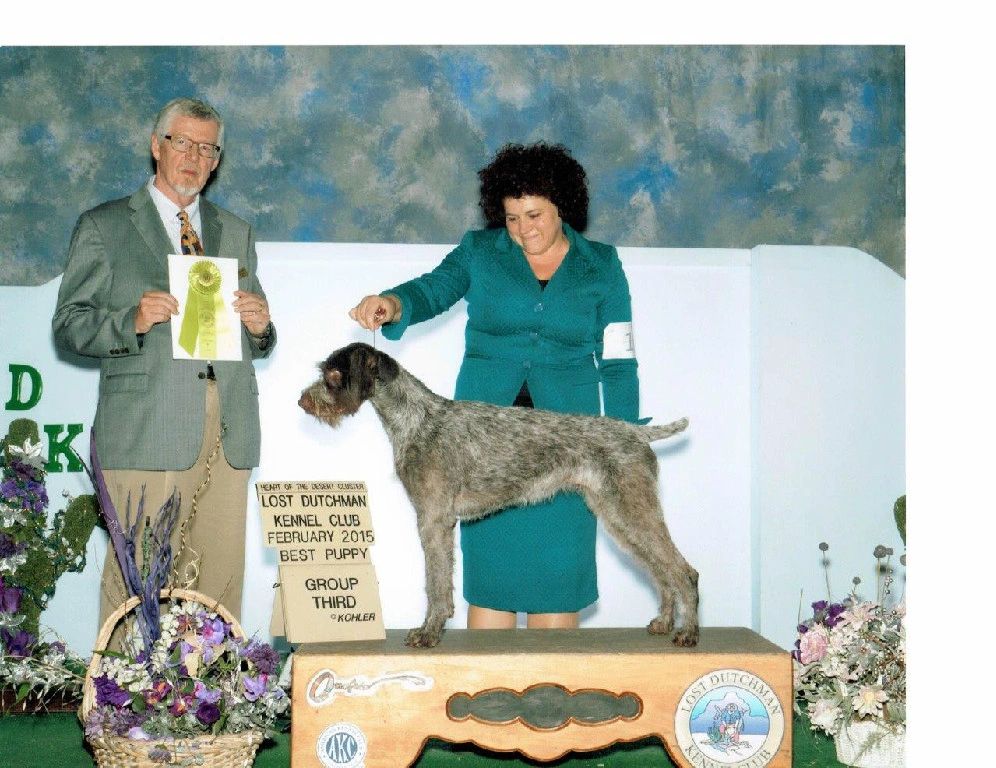 Reba wins a Puppy Sporting Group 3 at the Lost Dutchman Kennel Club.

WireWorks Blood, Sweat & Beards @ CanDo (Otto)
Otto lives in Chandler, AZ with his owner Matt. He has yet to make his debut' into the world of conformation competition because Matt and
Otto have been too busy hunting. Otto has strong movement, a great front, a wonderful topline, dark pigmentation and a correct harsh coat.
He has a happy disposition and an incredible prey drive.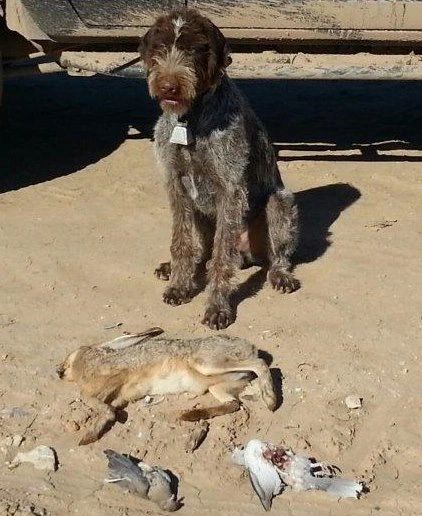 Otto is a true hunter of feather and fur.